Post Date:
December 14, 2020
---
admin
As sustainability is becoming more and more a priority for consumers and in the corporate world, so the spotlight is increasingly being shone on the green practices undertaken by hotels. The Horwath HTL Asia Pacific Sustainability Trends 2020 report, written in partnership with Greenview, identifies these practices and how common they are across the region. A survey of 2,453 hotels was undertaken, and although the research took place prior to Covid-19, these practices are still important as ever.
The report also contains performance data for hotels on energy, carbon and water across 13 countries. It allows hotels to benchmark their performance and rank their overall efficiency through utility cost benchmarking.
The five practices that nearly all hotels in Asia Pacific are implementing
The five most 'common' practices that are being implemented by almost all hotels in Asia are:
Tracking energy
Having a preventative maintenance program in place
Tracking water
A towel reuse program
Over 75% of guestrooms 'non-smoking'
The first four are standard preventative procedures that assist hotels in being more operationally efficient and less wasteful. The non-smoking policy, although it has yet become a staple of green certification, ensures that guests' and employees' health is not compromised by second and third hand smoke and improves overall air quality.[1] Hotels which do not have these practices in place are considered lagging among peers – in short, if your hotel isn't doing these then it should be.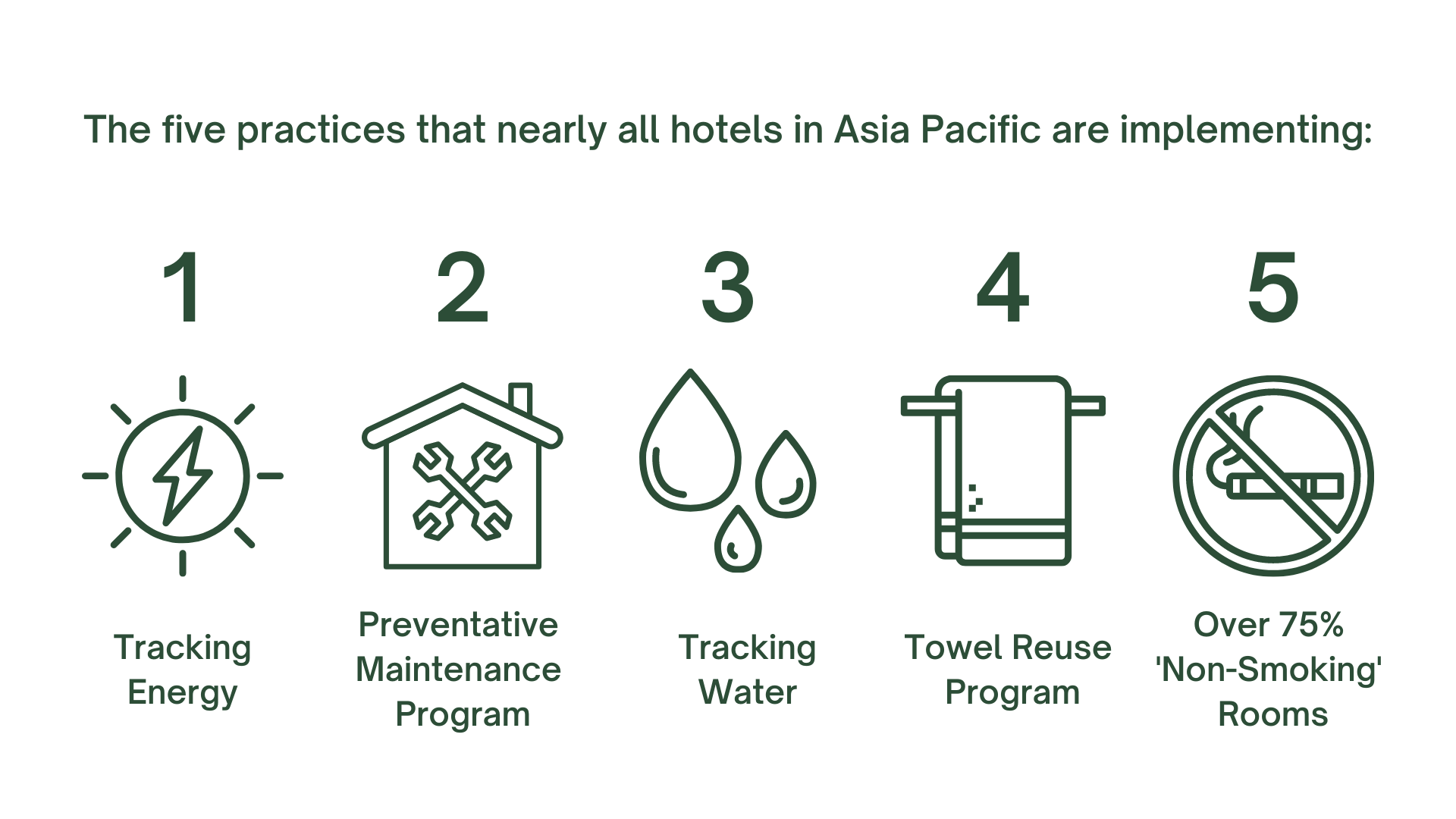 Established sustainability practices – how hotels can take a further step in the right direction
Less common but still undertaken by over half of the hotels surveyed are the 'established' practices. These include:
Having a written environmental policy
F&B establishments with over 75% reusable food service ware
Staff training on sustainability
A green team
Over 75% of meeting rooms having digital thermostats
It is a step in the right direction because sustainability is emphasized as not only on operational efficiency issue but one that seeks to truly minimize the operation's impact on the environment. Moreover, it shows that hotels are making an explicit commitment to sustainability. If you are doing these, then it's a great start.

Emerging practices – keeping ahead of the curve
Emerging practices are those which between 25% and 50% of hotels are reporting as having in place. These make a more explicit statement and take it a step further by quantifying not only general energy and water usage conservation practices but by measuring how they directly impact the environment and the community. These include:
Having an energy audit
Measuring your carbon footprint
Over 75% of guestrooms having bulk soap/shampoo dispensers
Over 75% of meeting rooms having occupancy sensors
Food waste prevention strategies being in place.
If your hotel has these in place, you are keeping pace.

Raising the Bar
A handful of hotels are putting in place more innovative practices which really set them apart from the crowd. These include practices such as food donation, renewable power generation, heat recovery, composting, on-site vegetable gardens, and bee hotels.
Examples from around the region include the Alila Villas Uluwatu's on site organic garden and corresponding cooking class, where guests are encouraged to learn about sustainable farming, and the Frangipani Langkawi Resort and Spa, Langkawi, Malaysia where a lot of the produce—including fish and fowl—are grown on site. And for a world-leading approach to carbon zero operations, look at The Brando Resort in French Polynesia.
In a rapidly changing environmental and social landscape, where the actions and impacts of business are becoming ever more consequential, the hotel sector can benefit from peer to peer benchmarking to develop and improve sustainability practices. The global pandemic has had a huge impact on the industry, but as international markets open up again, the opportunity is ripe to ramp up these practices which not only respond to guest expectations but also can build resiliency and make a real impact on the bottom line.
Download the report now to compare your hotel's sustainability activities to peers across the Asia Pacific region.
---